Porcelain Laminate Veneers
Correct your smile with stunning veneers
What Are Porcelain Laminate Veneers?
Porcelain Laminate Veneers are translucent and thin laminates made to improve the aesthetic (shape, spacing, color) of natural teeth, as well as to correct crowding or to replace composite bonding.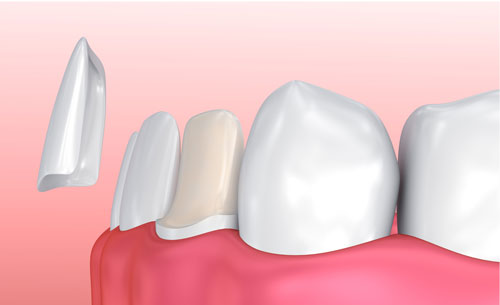 The Application of Veneers
You will need to attend a few appointments before application of your new veneers can begin. Once a dentist has diagnosed your treatment plan they will begin preparing your tooth (or teeth) by removing some enamel – which will make room for your veneer to be bonded in place.
Before the veneer is cemented permanently, the dentist will place the veneer on your tooth to examine the size and colour. If necessary, the dentist will trim the tooth to fit and determine the right shade of cement to use. Once the veneer is cemented, the dentist will apply a special light, which activates the cement chemicals to bond quickly. When the veneer is set, the dentist will remove any excess cement and perform any final adjustments.
The Benefits of Veneers
Although porcelain is a translucent material, it is very strong. In addition, there are no food restrictions – once they are cemented, you can eat normally (apples, corn on the cob, etc.). The porcelain simply covers the imperfections in your smile!
Porcelain veneers are permanent restorations and can be expected to last for many years.
Please contact our office today at (905) 836-0836 to schedule your complimentary smile assessment.